Si eres de los que pronto va a realizar un viaje a India y has querido reservar un billete de tren online, te habrás dado cuenta que no era tan simple porque  te obligan a disponer de un número de móvil indio donde te envían un código de verificación, si no lo tenías debías enviar mails para recibir un código de activación, etc… Ahora todo eso pasó a la historia y ya puedes hacerlo con tu propio número de móvil, eso sí, pagando 100rs + tasas.
No te preocupes porque los pasos a seguir son muy fáciles y en menos de 5 minutos tendrás tu cuenta en IRCTC activada y lista para reservar billetes de tren en India. Te lo contamos todo a continuación.
Reserva de billetes de tren en India
Paso 1. Darte de alta en IRCTC
IRCTC es la pasarela online de reserva de trenes en India. Basta con hacer click en SIGNUP, debajo del botón de LOGIN en la parte izquierda de la web, para empezar con el registro de tus datos como nuevo usuario de IRCTC.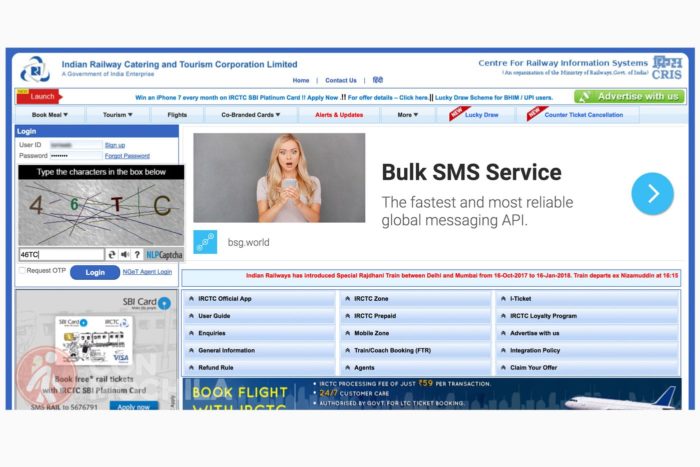 En la página que te aparecerá tendrás que rellenar todos tus datos. También podrás comprobar si tu nombre de usuario elegido está disponible haciendo click en CHECK AVAILABILITY.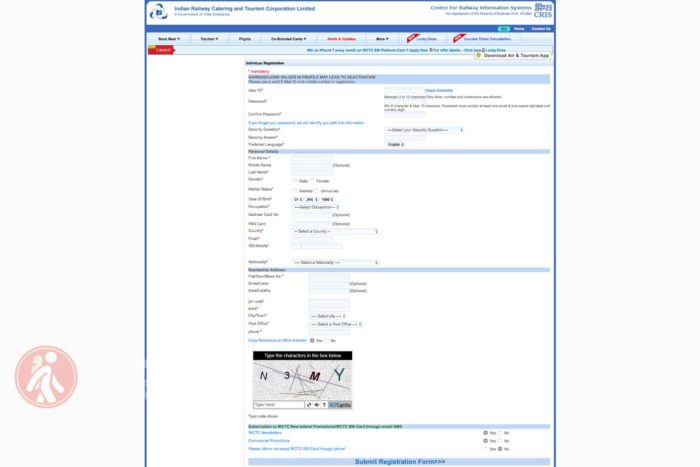 Una vez has rellenado los datos te saldrá una página con el contrato de aceptación de los términos y condiciones. Le hacemos click en I Agree Term And Condition.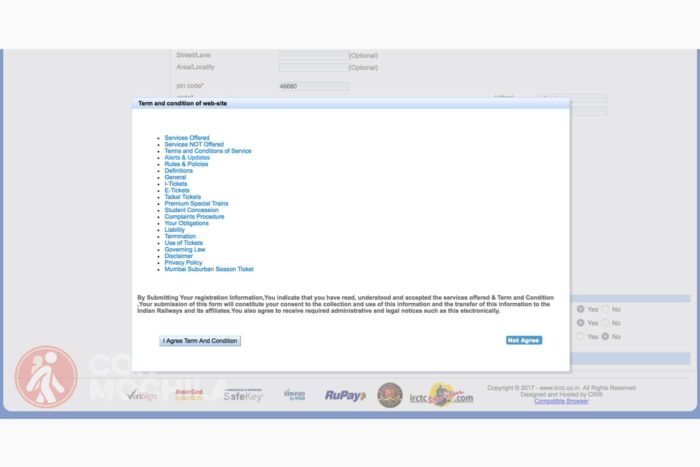 Una vez realizados estos pasos te llegará un mail con todos los datos del registro, con tu usuario y contraseña para acceder a tu cuenta en IRCTC, así como esta pantalla: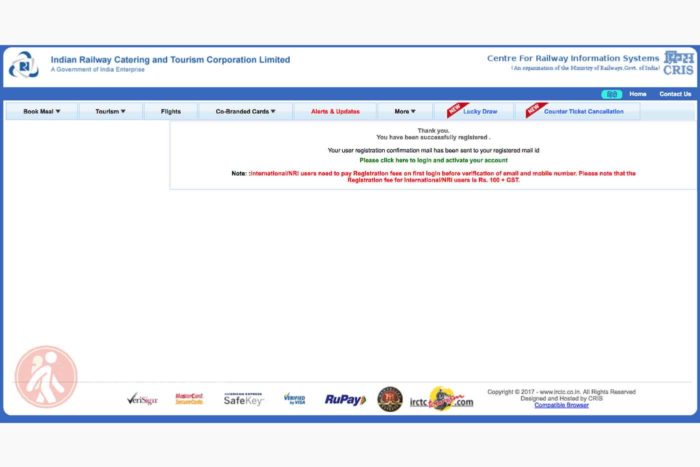 Paso 2. Activación de tu usuario IRCTC y pago de tasas
Una vez hecho el registro tendrás que activar tu cuenta. Como habrás puesto tu número de teléfono español (o de cualquier país diferente a India), llegarás a una página para realizar un pago de 100 rupias + tasas, el cual podrás realizar con tarjeta de crédito. Le das al cuadro de opción de "International cards" y seguidamente al botón de "Make Payment".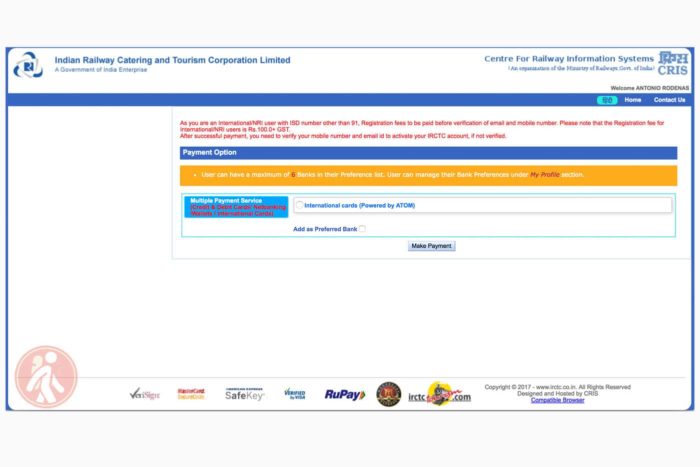 En la siguiente página deberás rellenar el formulario con los datos de tu tarjeta y tus datos de facturación. Es el típico pago online.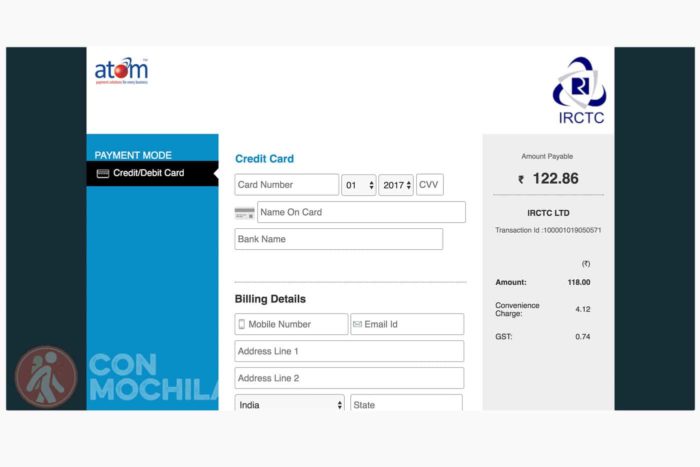 Si todo ha ido bien llegarás a la última pantalla del pago. Te dirá que éste ha sido realizado correctamente y te pedirá volverte a loguear desde la página de inicio.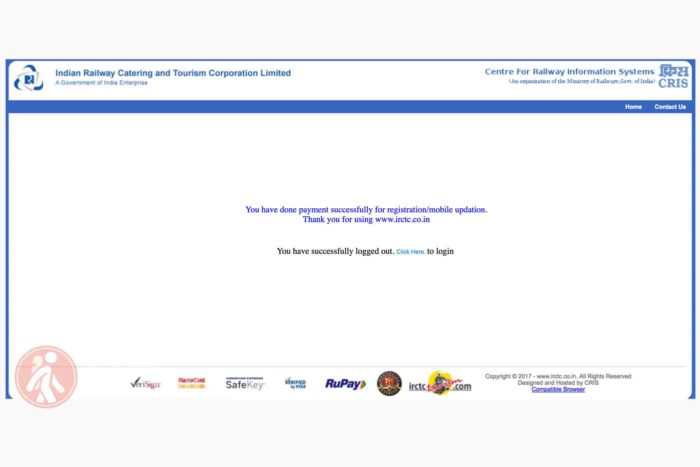 Paso 3. Verificación de tu número de móvil
Ahora volverás de nuevo a la página de inicio de IRCTC deberás poner tu usuario y contraseña, añadir las letras y números de seguridad del CAPTCHA y le darás al botón "Submit". Te aparecerá una pantalla como esta donde pasarás a verificar tu número de móvil; solo debes asegurarte de que el móvil es el correcto y poner también el email que utilizaste para el registro.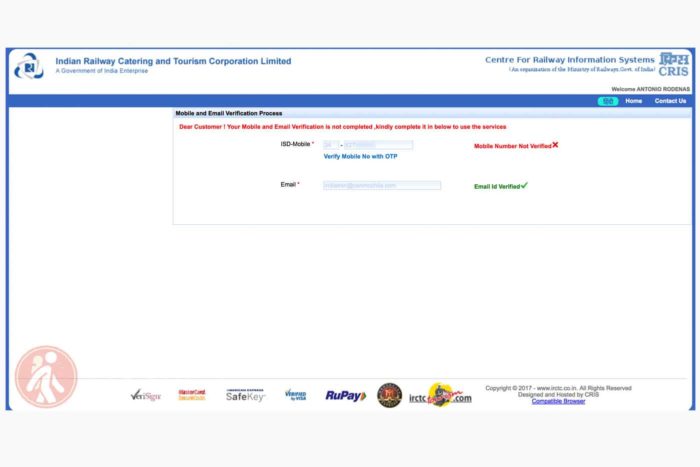 Una vez puestos los datos te enviarán a tu móvil, en breves segundos, un código de activación (OTP) por SMS y una pantalla como la siguiente: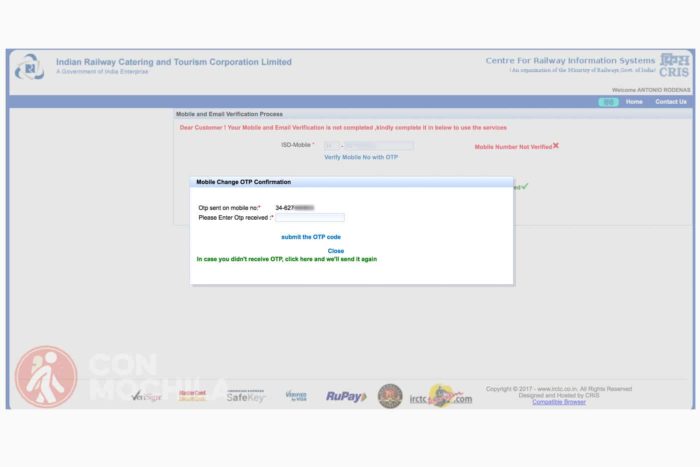 Solo debes introducir dicho número y hacer click en "Submit the OTP code". Seguidamente, y si todo ha ido bien, te aparecerá la pantalla que te dirá que tu móvil está verificado.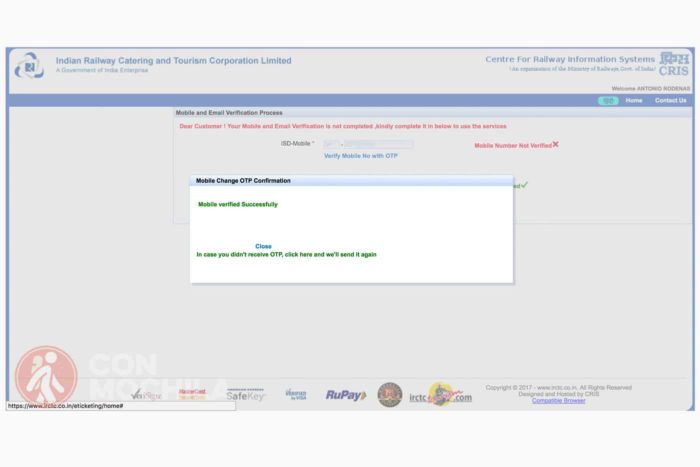 Al cerrarla llegaremos a la pantalla final, que te dirá que tu cuenta ha sido activada y que ya puedes ir a la página de inicio para loguearte de forma normal. Será cuando podrás acceder a la reserva de trenes sin ningún problema ;-)