¡¡¡¿En Manila?!!! Esa fue la reacción de la mayoría de la gente a la que le dije que iba a hacer un voluntariado en la capital de Filipinas.
La gente que ya había estado allí sabía lo que iba a encontrarme, un ciudad caótica, estresante y contaminada con pocas opciones para el entretenimiento, no era muy alentador. Sin embargo, yo no iba hasta allí en busca de diversión. En mi afán de compaginar nuestro largo viaje con la cooperación y el aprendizaje, me empeciné en encontrar una asociación de rescate de animales que dispusiera de clínica veterinaria, y como Filipinas parecía que sería nuestro siguiente destino empecé a buscar por allí.
Es así como encontré la web de CARA, una asociación no gubernamental y sin animo de lucro cuyo objetivo no era otro que promover el bienestar animal de los animales a través de la educación, el control de la población, campañas de esterilización, refugio para los animales más vulnerables y asistencia veterinaria a propietarios con pocos recursos. Su página web me convenció, me gustó lo que leí y me puse en contacto con ellos con un tímido correo en el que les ofrecía mi colaboración a cambio de seguir aprendiendo. Para mi sorpresa obtuve una respuesta afirmativa enseguida, y pese a que Manila no nos llegaba a convencer, algo nos empujó a seguir adelante. Fue la mejor decisión.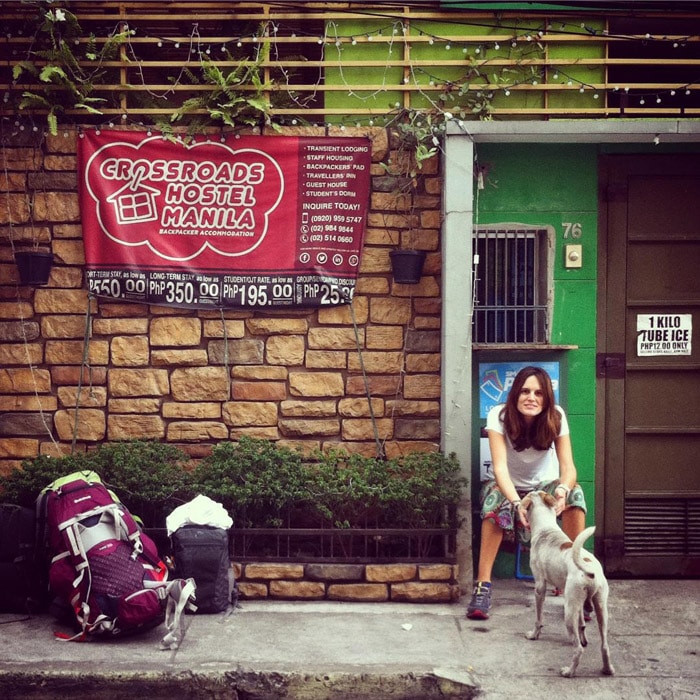 Vale, Manila no es el mejor sitio para vivir, y casi ni resulta apetecible visitarla, sin embargo al final pasamos allí alrededor de tres meses y la gente de CARA tuvo la culpa de ello. En la asociación encontré todo lo que buscaba: me gustaba la organización, todo lo que conseguían gracias a su esfuerzo y además me sentía cómoda con la gente. Entré en contacto directo con el mundo del TNR: trap-neuter-release (en castellano se conoce como CES: capturar-esterilizar-soltar, una manera ética y eficaz de controlar la población de gatos de colonias callejeras mediante la esterilización de sus ejemplares), pasaba las mañanas rodeada de gatos y lo mejor de todo fue Candice. La veterinaria del centro me permitió estar con ella en el quirófano introduciéndome en el mundo de la cirugía, pasábamos mañanas enteras esterilizando gatos callejeros y alguna que otra mascota que traían propietarios.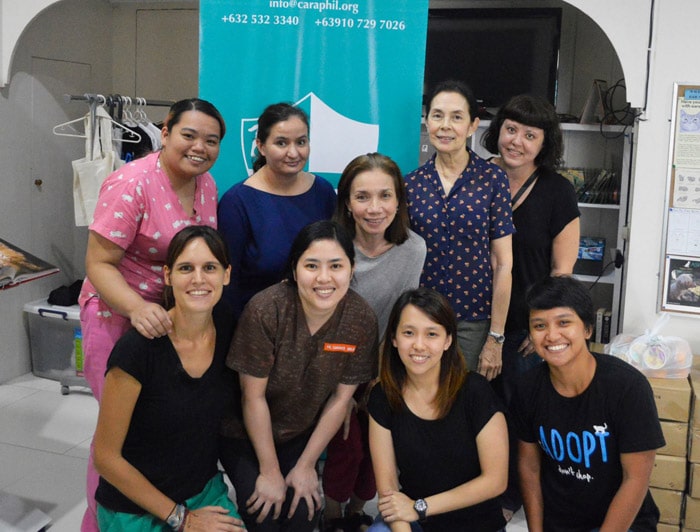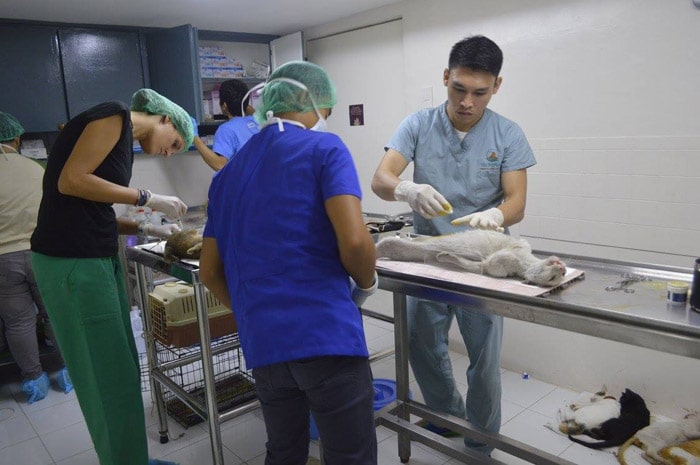 Como ya habréis podido comprobar este no es un post para hablar de Manila sino para dar las gracias. Gracias al personal de CARA que aceptó mi propuesta y me dio la oportunidad, gracias a todos los trabajadores de la clínica y el refugio por aceptarme y por cada sonrisa y gracias a Candice y a Lisette por su paciencia y por hacerme crecer como veterinaria. Pero sobretodo gracias a todos y cada uno por el trabajo que hacéis con los animales y por tener tan claro que cada vida cuenta, por pequeña o enferma que esté.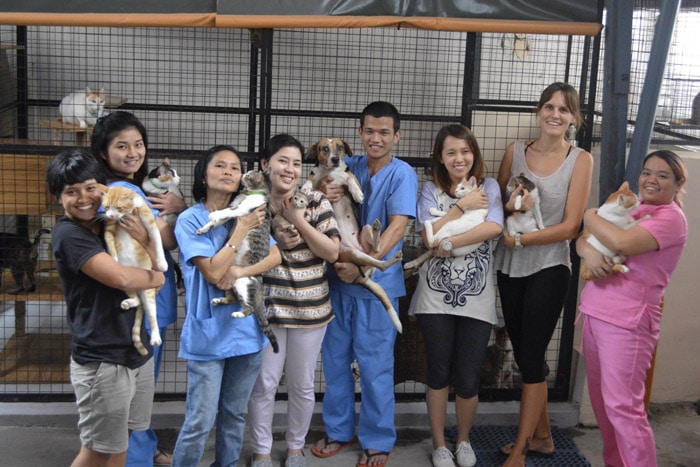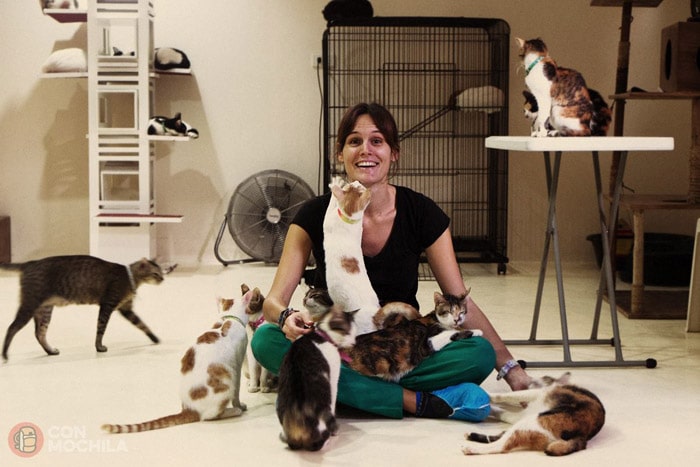 Si tenéis ganas de conocer más el trabajo de esta asociación podéis hacerlo a través de su web y sus redes sociales:
Manila's beautiful face
In Manila???? A lot of people asked me that when I told them that I was going to volunteer in the Philippines' capital.
People who had already been there knew what I was going to find, a chaotic, stressful and polluted city with few options to enjoy myself; at least that was what they said. However, I wasn't looking for entertainment, I was looking for an animal shelter with vet clinic to cooperate and learn, and since Philippines was going to be our next destination I started to look for in this country.
Finally I found CARA's website, a nongovernmental association aiming to promote animal welfare through education, population control, sterilization campaings, shelter to the most vulnerable animals and veterinary assistance to owners with few resources. Their website convinced me, I liked what I read and I got in contact with them sending an email. To my surprise they answered me quickly and despite Manila wasn't really attractive for us, something pushed us to go there.
Well, Manila isn't the best place to live, actually I didnt even feel to visit it, however finally we spent about three month there and this is CARA's people's fault. In this association I found all I was looking for: I liked the organization and everything they achieve through their effort and besides I felt comfortable. I got in contact with the TNR campaings, I spent hours surrounded by cats and the best thing was Candice, the shelter's vet allowed me to be with her in the surgery room and introduced me in the surgery's world; we spent a lot of hours neutering strayed cats and some pets.
As you can see, this isn't a post to talk about Manila, I wrote it just to say thank you. Thanks to the CARA's managers and stuff for accepting my proposal and give me the chance, thanks to all the shelter and clinic workers for accepting me and specially to Candice and Lisette for their patience and their teachings. Thank you CARA for everything you do everyday taking care of every single animal you find. You're awesome.