Mucho se ha hablado estas últimas semanas acerca de los centros de tigres desde que apareció en prensa la noticia de que el director del Departamento de Parques Nacionales de Tailandia (DNP), Nipon Chotiban, ordenó que todos los tigres del Tiger Temple fuesen sacados de allí antes de finales de Abril. Esta noticia se produce después de muchas denuncias de conservacionistas y activistas de los derechos de los animales que han estado luchando durante 15 años para cerrar el centro. Podéis ver noticias sobre el caso desde FAADA.
Las reacciones de la gente, como era obvio, no se han hecho esperar y muchos son los que han aprovechado para dar su opinión. Como siempre que se publican temas que me interesan especialmente, además de leer la noticia, no puedo evitar mirar qué comenta la gente. Personas que aportan su punto de vista, sus insultos demasiadas veces, y otros que hablan por no callar, que también los hay muchos.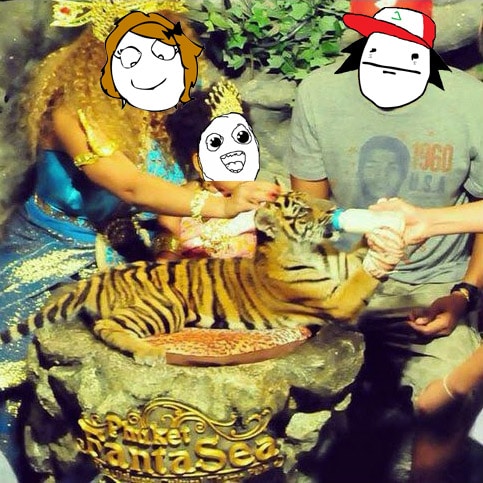 Muchas veces algunos comentarios me hacen reflexionar (lo prometo, hay gente que incluso hablando con muy poca educación y tantas faltas de ortografía, que cuesta de entender lo que dicen, me ha hecho cuestionarme cosas). Pero otros, como muchos de los que he estado leyendo acerca de esta noticia y sobre los centros de tigres en general, solo los puedo entender metiéndome en la cabeza de alguien cuya mentalidad egocéntrica posiciona a los humanos en el centro de la tierra como amos y señores del resto de las especies y dotados de un privilegio casi divino en el cual se nos autoriza a las personas a hacer lo que nos da la gana con el resto de las especies, sin cuestionarse siquiera si aquello es ético o no.
Da la sensación de que aquel que quiere su foto con el tigre para presumir cuando vuelva de su viaje a Tailandia no se hace más que la típica pregunta de ¿están drogados?, y como el trabajador de turno contesta que no (¿que va a decir?), uno se queda más tranquilo. O quizás no quieran saber más para no tener remordimientos. Quizás… ¿Qué más dará si es verdad o mentira?, ¿qué importa de dónde han venido los animales o a dónde van a parar todos esos cachorros con los que están jugando? (que se hacen mayores y allí no caben todos, esos animales no permanecen eternamente en estado de cachorro adorable). Y por supuesto ¿qué importa que vivan enjaulados o encadenados?, porque alguien les ha dicho que esos centros ayudan a que los tigres no se extingan. Y se lo creen. Pero solo hay que hacer una mínima búsqueda en google para encontrar denuncias de malos tratos o investigaciones como la de Care for The Wild. Noticias que, como mínimo, deberían hacernos reflexionar y cuestionarnos si estos centros son lo que realmente dicen que son o simples zoos con ánimo de lucro.
Hoy quería compartir con vosotros los comentarios que más leo cuando se abre el debate sobre centros de tigres sí o no y reflexionar. Comentarios que se repiten hasta la saciedad, cortados por el mismo patrón y que a veces me hacen pensar que la persona que está hablando ni siquiera ha leído un par de artículos al respecto o no se ha hecho muchas preguntas. Comentarios que a mi me inquietan y me suscitan otras preguntas.
NO pretendo convencer a nadie, ni mucho menos moralizar, pero a veces creo que la gente habla de estos temas sin la mínima información o al menos sin hacerse apenas preguntas. Incluso se enzarzan en absurdas discusiones sin argumentos de peso que no llevan a ninguna parte. Como ya dije en el post de "Turistadas" y maltrato animal entrando al tripadvisor se pueden leer comentarios de gente que se cree experto en felinos solo porque tiene un gato en casa.
Desde ya os digo que, pese a ser veterinaria, no soy ninguna experta en el tema, ni he estado en ningún centro de éstas características porque no tengo ningún interés en formar parte de esta industria, pero afortunadamente he hecho algunos voluntariados con animales en Tailandia en los que he podido escuchar opiniones de gente que trabaja por la fauna del país. Y además me hago preguntas. Porque si algo tengo claro es que para encontrar respuestas uno tiene que empezar haciéndose preguntas. Muchas preguntas. Por eso he querido cuestionar estas afirmaciones a base de preguntas.
TOP 11 comentarios repetidos hasta la saciedad sobre centros de tigres
1. "Estos centros los protegen de la extinción"
¿A cuantos animales ha liberado el centro que visitaste o quieres visitar? Déjame apostar: CERO
¿Sabes que a los animales que han sido criados por personas no se les puede simplemente dejar en libertad porque ni si quiera saben conseguir su comida? (Se empieza a hablar de relocalización de animales en cautividad, pero creedme, no es el caso de estos centros y es un proceso largo. Además, en estos animales no se ha seguido ningún estudio genético, simplemente se dedican a criar ejemplares sin ni siquiera tener en cuenta si están emparentados con los consiguientes problemas de consanguinidad genética)
¿Sabes que esto también sería un peligro para las poblaciones cercanas porque, acostumbrados a la gente, se acercarían en busca de alimento?
¿Sabes que los proyectos de repoblación destinados a proteger de la extinción a alguna especie van siempre acompañados de minuciosos estudios genéticos y que salvar a un animal de la extinción no se limita a criar animales sin más?
¿De qué le sirve a una especie que haya miles de ejemplares de los suyos en cautividad cuando en estado salvaje están condenados a extinguirse?
¿Se aprende algo de la conservación de los tigres visitando estos centros?
¿Te cuentan cuales son los resultados de su programa de conservación?
¿Alguna vez has visitado un centro de rescate o un verdadero santuario para poder comparar?
¿Que tipo de formación tienen los cuidadores/voluntarios/monjes?
¿Sabes que en los centros de rescate una de las normas de oro es que el personal tenga el mínimo contacto con los animales?
"La visión de que estos (los centros de tigres) están haciendo lo mejor de una mala situación y ayudando a salvar a los tigres de la extinción es compartida por muchos de los que visitan estos centros en Tailandia." Onkuri Majumdar es el coordinador regional de Freeland en el sur de Asia, una ONG Tailandesa preocupada por la conservación y protección de la fauna salvaje alrededor del mundo. Mr Onkuri cree que esta visión es engañosa y en realidad bastante irresponsable.
"Los zoos de tigres no hacen nada para salvar a los tigres salvajes. Los tigres de los zoos nunca podrán ser liberados en estado salvaje porque -contrariamente a la creencia popular- la caza no es instintiva" O sea, que los animales que no han aprendido a cazar no lo van a aprender si les liberan. Extraído del artículo El cuento del tigre: dentro del Tiger Kingdom de Phuket de la web The Phuket News.
Según Care for the Wild "Para formar parte de un programa de cría para la conservación, la estructura genética y la historias de los padres deben conocerse. Pero de los primeros animales del Templo no se conoce el origen, su ADN no se ha testado para conocer a que sub especie pertenece. Con estos antecedentes, el templo no puede participar en ningún programa de cría para la conservación reconocido"
Según cuentan desde WFFT (Wildlife Friends Foundation of Thailand) "Todos los tigres del templo son híbridos que provienen de una granja. No tienen ni siquiera un poco de sangre del Tigre Indo-Chino (Pantera Tigris Corbetti)"
"Ningún tigre criado en cautividad ha sido liberado en estado salvaje con éxito" según Mahendra Shrestha, director del National Fish and Wildlife Foundation's Save The Tiger Fund.
"Los tigres en cautividad no contribuyen a la conservación de los tigres salvajes porque no pueden ser reintroducidos en su hábitat. El mundo está lleno de tigres cautivos, no necesitamos más." Según Ashok Kumar, vicepresidente de Wukdkufe Trust of India. Extraído de Black market tigers linked to thai temple, report says, de la web de National Geographic
Si te interesa conocer como se protege a los tigres de la extinción visita el apartado de la web de WWF: https://www.worldwildlife.org/species/tiger
2. "Están bien cuidados" / "Yo les vi bien"
Otro caso curioso es aquel de los que pronuncian su diagnóstico "a ojo de buen cubero". Me gustaría ver la cara de mi profesor de propedéutica viendo como alguien hace un reconocimiento a un animal así de rápido y eficaz…
¿Alguna vez has llevado a tu mascota al veterinario?
¿Te has fijado en el rato que está palpándole, tomándole constantes y haciéndote preguntas antes de confirmar el estado del animal?
Me pregunto más cosas
¿Qué es para ti que un animal se vea bien?
¿Que no esté sucio y se vea gordito?
¿Conoces la definición de bienestar animal?
Y además de que te parezca que están bien cuidados
¿Sabes que tipo de alimentación reciben?
¿Sabes si reciben la atención veterinaria requerida?
¿Te fijaste si se le habían extraído las uñas o los dientes para evitar posibles incidentes?
¿Tenían estereotipias?
¿Cuantas horas al día pasan dentro de la jaula?
¿Sabes que los tigres son animales solitarios por naturaleza?
¿Es entonces natural que pasen tantas horas al día rodeados de gente y de otros tigres?
¿Pueden estar los animales estresados por ser forzados a interactuar con turistas durante un determinado número de horas al día?
"Los tigres están en cajas inadecuadas 21 horas al día, siendo liberados solo para ser encadenados a 40 grados sin sombra o agua para ser explotados y aparecer en las fotografías de los turistas que pagan. Esto es extremadamente innatural para los tigres porque su hábitat natural es la selva densa. Aparte de esto los tigres en el templo son alimentados con una dieta basada en pollo cocido y comida de perro, comprometiendo severamente la salud de los animales. Todos estos factores contribuyen a la docilidad de los tigres en el templo. Estos animales ya no son tigres, son meros objetos para ser usados en selfies, manipulados y amoldados para generar ingresos." Texto extraído del blog A STRANGE AND TERRIBLE SAGA
Puedes leer toda la investigación acerca de las irregularidades y maltratos del Tiger Temple en la página de Care for the wild o la traducción en la de FAADA:
"Para facilitar su manejo y reducir los riesgos de las interacciones entre felinos y personas, una práctica habitual es la desungulación de los animales, que implica la extirpación de sus garras. Lejos de tratarse de un procedimiento inofensivo, se trata de un proceso brutal y doloroso que tiene numerosas implicaciones para los animales. La desungulación consiste en sacarles las garras a los animales cortando la tercera falange entera del animal hasta la articulación. Así pues, no sólo se amputa la garra sino también hueso, nervios, cápsulas de las articulaciones, ligamentos y tendones." Texto extraído de la web de FAADA
3. "Es la única manera de estar cerca de estos animales"
Personalmente esta afirmación me da mucho coraje porque me parece tremendamente mezquina. O sea, que para que yo pueda acariciar 5 minutos a un tigre y tener una foto de recuerdo el animal tiene que vivir toda la vida enjaulado
¿De verdad no os parece egoísta?
¿No es una alternativa más noble hacer un safari y ver al tigre en su hábitat?
¿Habéis contemplado la opción de visitar un centro de rescate? Pero de los de verdad, de los que su principal preocupación es el bienestar animal
¿No es extremadamente humillante que el mayor felino de la tierra tenga que pasar sus días encerrado en una jaula para que nos hagamos una triste foto con ellos?
4. "Tienen que estar en estos sitios porque los humanos hemos destruido su hábitat"
¿Y es esta la mejor solución?
¿No creéis que teniendo a los animales en cautividad se rompe todo el equilibrio?
Hay que proteger a la especie, sí, pero teniéndola en cautividad no solucionamos nada. El desarrollo de la población de tigres tiene que formar parte del desarrollo de su ecosistema. Lo que tenemos que hacer es dejar de comernos su hábitat y educar en el respeto por el planeta, no criar tigres como churros para tenerlos encerrados, porque salvar a los tigres de la extinción sin salvar su verdadero hogar no tiene ningún sentido.
Un ejemplo de WWF de cómo proteger el hábitat:
"Los tigres necesitan paisajes para su desarrollo, y nuestro trabajo para proteger y conectar su frágil hábitat está basado en rigurosos análisis científicos. WWF ha elegido lugares para centrar los recursos basado en la mejor ciencia disponible. (…) Nuestro trabajo incluye construir competencias locales para gestionar áreas protegidas o coordinar con socios para gestionar el centro de las áreas de los tigres y corredores."
5. "No están drogados"
Las variantes de esta afirmación se atreven a explicarnos incluso el por qué: "Estan bien alimentados y no tienen hambre", "Están acostumbrados a la gente y no la ven como comida". Yo me pregunto
¿En que manual de manejo de fauna salvaje han leído que para manipular a un animal salvaje sobra con que tenga el estómago lleno? ¿En la versión Wild del tripadvisor? No es lo mismo hambre que instinto depredador
¿Además, cómo se puede afirmar algo así sin un análisis de sustancias en los animales?
¿Es eso lo único que debería preocuparnos de estos centros de tigres?
Aunque se confirmase que realmente estos animales no estuviesen drogados, tenemos que pensar que existen otros muchos otros tipos de abuso que pueden estar sufriendo
¿Nada que decir acerca del confinamiento al que han sido condenados? Porque teniendo en cuenta la mierda de vida que llevan yo me pregunto ¿no estarían mejor sedados…?
Y hablando de relación humanos-grandes felinos
¿Conocéis a Kevin Richardson y la relación que tiene con los leones?
¿Sabéis cuantas horas de su vida ha pasado junto a ellos para que los animales lo consideren uno más de su manada? Y aun así siempre SIEMPRE que se acerca a ellos lo hace con toda la precaución del mundo y nunca con otra gente a la que los animales no conozcan.
"Se les rocía la cara con orina, son golpeados con piedras, palos y otros utensilios mientras son movidos forzosamente por la cola para posar para las fotos. Todos estos son métodos de refuerzo negativo. El refuerzo negativo incluye castigar a un animal con fuerza bruta, usando la dominancia con la esperanza de que el animal estará tan asustado que no volverá a repetir dicha acción." Texto extraído del blog A Strange and terrible Saga 
6. "Los cuidadores/voluntarios/monjes los tratan bien"
Seguramente vamos a ver lo que ellos quieren que veamos pero
¿Cómo les tratan cuando los turistas no están delante?
¿Cómo están tratando a las madres de esos animales que se pasan la vida pariendo para que los turistas tengan cachorritos a los que acariciar?
Y lo que es peor
¿Qué hacen con los ejemplares que ya no necesitan?
Mmm ¿Sabes que en China diferentes partes de tigres son muy codiciadas por sus "propiedades"? Uf, mejor no pensarlo ¿verdad?
Hay quien defiende a los monjes abogando que el budismo no permite el maltrato pero
¿Desde cuando el hábito hace al monje?
¿Desde cuando los monjes se dedican a montar negocios?
"Las granjas de tigres alimentan el mercado negro ilegal de partes de animales, como huesos de tigres y penes, usados en la medicina tradicional china" Texto sacado de un artículo de National Geographic
"Los huesos de tigres han sido usados en cantidad de alimentos por más de 1000 años. En 1993 el gobierno chino prohibió el tráfico y el uso de partes de tigres pero la creencia popular en el poder de las partes de tigre permanece". Extraído de la web Save Tigers Now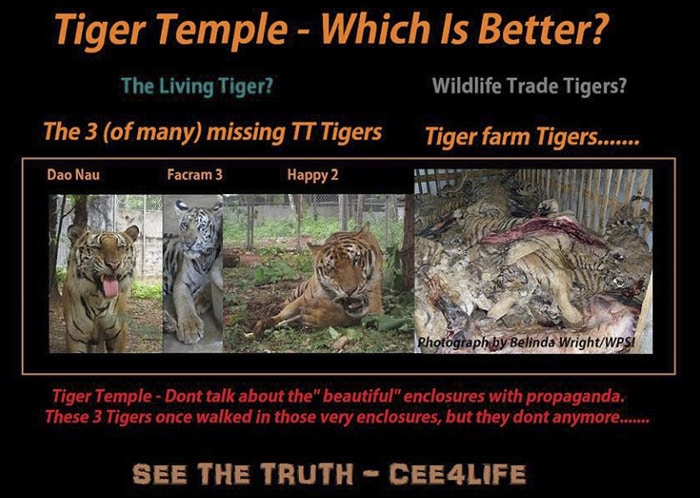 "Tu participación en la "experiencia" en realidad solo alimenta el negocio lucrativo que requiere la continua cría de tigres para producir un flujo constante de cachorros que inevitablemente pasaran la fase de "adorable y tierno" y a las pocas semanas serán sacrificados, vendidos o descartados en algún santuario. De hecho ésta industria es una de las principales causas de la superpoblación de tigres no deseados, desplazados y desatendidos" Según nos cuenta Kelly Donitan miembro de IFAW Animal Rescue en su artículo Resista la tentación: no hay necesidad alguna de jugar con cachorros de grandes felinos
7. "Están protegidos de los cazadores"
¿Y no sería mejor controlar la caza y el comercio ilegal y centrar nuestros esfuerzos en que estos animales vivan donde tienen que vivir?
"Las campañas de educación dirigidas a reducir la demanda de productos que provienen de partes de tigres reducen la caza. De hecho, ésto es lo que protege a los tigres. Haciéndote una foto con el cachorro de un tigre y ser consciente de que los tigres están en peligro extinción, desgraciadamente no hará nada para la conservación de los tigres". Según nos cuenta Kelly Donitan miembro de IFAW Animal Rescue en el mismo artículo anterior.
"WWF trabaja para para la tolerancia cero con la caza furtiva en toda Asia. Ayudamos a crear unidades ejecutivas dedicadas en cada paisaje e instalamos las mejores nuevas tecnologías para ayudar a las agencias locales a conseguir lo máximos resultados. Insistimos en el mejor cumplimiento de las leyes mejorando la efectividad de los guardas forestales encargados de la fauna salvaje, entrenando personal de las agencias, dando poder a las patrullas de la comunidad y las redes" 
8. "El tiger Kingdom es mejor que el Tiger Temple, allí esas cosas no pasan"
Otros dicen que "En el Tiger Temple las instalaciones son mucho mejores" y desde que apareció la noticia de la incautación, los defensores del Tiger Temple se escandalizan diciendo que "ahora esos animales irán a zoos o a circos donde no les cuidaran bien"
¿De verdad hay centros de tigres mejores que otros?
¿En qué se basan para hacer ese tipo de afirmaciones?
¿No ven que se llame como se llame el centro la finalidad de todos ellos es la misma? Lucrarse con los animales, hacer negocio con los tigres y enriquecerse a base de explotación.
¿Acaso el Tiger Temple no es un circo con disfraz de santuario? Solo hay que ver las fotos de la gente. Creo que el que hace estas afirmaciones sigue sin hacerse muchas preguntas…
9. ¿Los que tanto critican han estado allí?
Ni ganas, la verdad, pero porque me he informado antes. Soy una gran amante de los felinos, y por eso y porque les tengo mucho respeto nunca en mi vida acudiría a un espectáculo con tigres (sobra decir que con ningún animal, claro). Solamente colaboraré con centros de rescate/asociaciones/fundaciones que rescaten o que se encarguen verdaderamente de proteger a la especie.
Los que han estado allí y no critican al centro
¿Han leído algo al respecto de por qué se cuestiona estos centros de tigres?
A ti te encantó el sitio pero ¿has leído acerca del abuso al que son sometidos?
"Existen muchos centros que operan bajo el nombre de "santuario" o "centro de rescate" para la fauna salvaje, pero hay muchas banderas rojas y tienes que andar con ojo para estar seguro de que no estás fomentando esta crueldad (…) Los centros que animan a hacerte selfies con fauna salvaje son una enorme Bandera roja." Extraído del artículo Al descubierto: Tiger Kingdom santuario o farsa de One Green Planet
10. "En España somos peores", "No os rasguéis las vestiduras que aquí tenemos las corridas", "Y de los zoos nadie dice nada?, "Y tu comes carne" etc…
Estos son los típicos argumentos "salgo por peteneras y desvío la conversación porque no se cómo justificarme" Sí, España está a años luz de ser un país en el que se respete a los animales, la tortura no es cultura y las granjas de producción intensiva son inhumanas pero
¿Insinúas con esas afirmaciones que por eso no puedo denunciar las barbaridades de otros países?
¿O es que tengo que elegir solo una causa?
Hace poco leí una fase de Vicente Ferrer que decía "En el mundo hay multitud de causas por las que luchar, y hay que tomar alguna como propia", lo que me reafirma en mi idea de que aunque yo solamente hubiese elegido luchar por esta causa tú no deberías juzgarme.
11. "En África los niños se mueren de hambre"
Ésta es como la anterior pero en su versión más heavy. Sin duda la mejor de todas, porque al que la utiliza le vale para todo. Da igual que estés hablando de tigres, de elefantes o de perros abandonados. Siempre que estés hablando de bienestar animal la soltará. Mi respuesta-pregunta para éstos comentarios es
No, no quiero decir que me importen una mierda los niños, por supuesto que no, porque tengo muy claro, aunque ellos pretendan hacer creer lo contrario, que por encima de todo están los humanos y sus derechos, pero ¿de qué me están hablando en concreto? Quizá si especifican un poco y me cuentan qué es lo que está haciendo ellos para solucionar "el hambre en África" me uno a su buena labor… Aunque mucho me temo que nada… Querer a los animales no me exime de amar a las personas, ni de luchar también por sus derechos.
Conclusiones
No me gustaría que nadie viese este post como una excusa para juzgar a quienes han estado o pretenden visitar los centros de tigres o que vean las preguntas como un ataque. Simplemente son las preguntas que siempre me he hecho y con las respuestas que he encontrado, y teniendo cuidado con las fuentes me he formado mi humilde opinión.
Siempre que te plantees acudir a un espectáculo con animales, como centros de tigres o demás animales, hazte preguntas, busca respuestas y fórmate una opinión. De muchas de las preguntas que todavía me hago no he encontrado respuestas claras, pero creo que a veces no encontrar ninguna respuesta es la RESPUESTA.
Fuentes:
National geographic
FAADA Turismo Responsable
WWF
Care for the Wild
Wildlife Friends Foundation Thailand
Save Tigers Now
One Green Planet